Ontario Regulation 366/18 outlines the Minimum Maintenance Standards for Municipal Highways. The Town of South Bruce Peninsula Policy PW.2.1 is the Winter Maintenance Policy which ensures a consistent standard of winter maintenance operation throughout the municipality. The policy meets or exceeds Ontario Regulation.
The Town provides winter maintenance on priority school and commuter sidewalks.The Town also provides winter maintenance in the commercial districts of Wiarton, Sauble Beach and Hepworth.
Winter maintenance on sidewalks only occurs after the roads have been plowed.
The map below shows which sidewalks are included in the Wiarton Sidewalk Winter Maintenance Program. Last year the Town increased sidewalk plowing by adding Claude and Brown St. to the route and this winter the Town has added the sidewalk on McNaughton Street from George Street to old High School, as well as William Street from Louisa Street to Berford Street.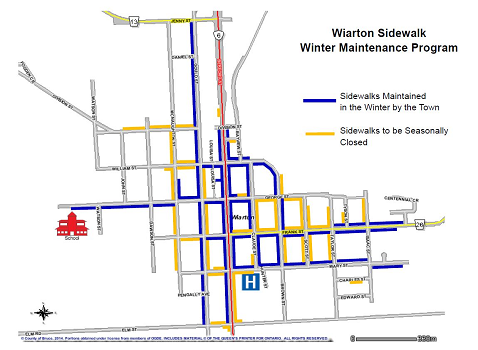 Last winter, the Town's insurance provider insisted we post signs on the sidewalks we don't plow. The signs do not indicate sidewalks we have stopped plowing. The Town has never decreased sidewalk snow removal maintenance.
Clearing the ice and snow from the sidewalk in front of your home or business will make it safer for everyone. Keeping sidewalks free of snow and ice is important for everyone's safety, particularly the elderly, children and people with disabilities.
Visit https://www.southbrucepeninsula.com/en/your-community/winter-maintenance.aspx for more information.
Bill Jones
Chief Administrative Officer
Town of South Bruce Peninsula
bill.jones@southbrucepeninsula.com
519-534-1400 ext.121
October 20, 2022
-30-