The Town of South Bruce Peninsula Fire Department is made up of approximately 58 volunteer Fire Fighters, a full time Chief, a part-time Deputy Chief and a part-time Assistant Chief of Training. The Town of South Bruce Peninsula Fire Department is committed to the safety, protection and well-being of its residents and visitors through prevention, education, planning and emergency incident services. The Establishing and Regulating By-law sets out that the Department will provide the following services:
Fire Prevention
Public Education
Fire Suppression
Rescue
Motor Vehicle Collision/Extrication
Emergency Medical Response
Hazardous Materials Response
Fire stations
Fire Protection services are offered through two (2) stations located within the municipality in Wiarton and Sauble Beach.
Wiarton Station-Station 30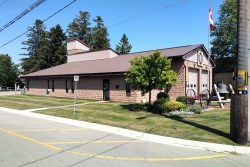 Built in 1985 and located in Wiarton at 382 George Street
Sauble Beach Station-Station 40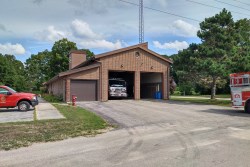 Built in 1981and located in Sauble Beach at 21 Sauble Falls Parkway
The Town of South Bruce Peninsula Fire Department is not tanker shuttle certified.
Annual report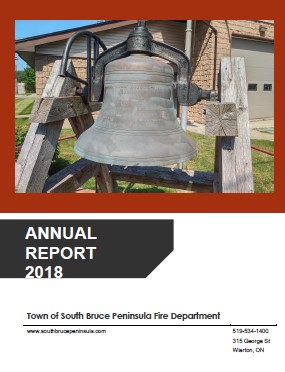 Community Risk Assessment
The Community Risk Assessment Guideline prepared by the Office of the Fire Marshal and Emergency Management indicates that community risk assessments allow municipalities to make informed decisions about the types and levels of fire protection services they will provide based on identified risks.
Risk is defined as a measure of the probability and consequence of an adverse effect to health, property, organization, environment, or community as a result of an event, activity or operation.
By identifying all fire and life safety risks in their community and prioritizing them based on the probability of them occurring and the impact they would have if they occurred, fire departments are able to determine which risks to address and how best to address them. Risk assessments allow fire departments to ensure their levels of service, programs and activities for public fire safety education, Fire Code inspections and enforcement, and emergency response directly address the identified risks and are most effective at preventing and mitigating them.
The Fire Protection and Prevention Act, 1997 (FPPA) mandates that every municipality in Ontario shall establish a program which must include public education with respect to fire safety and certain components of fire prevention, and provide such other fire protection services as it determines may be necessary in accordance with its needs and circumstances. In the fire service, these elements are commonly referred to as the Three Lines of Defence:
Public Fire Safety Education
Fire Safety Standards and Enforcement
Emergency Response
In order to meet these obligations, municipalities need to make informed decisions with respect to the types and levels of fire protection services they provide. This requires an understanding of the risks facing the community that can be identified through a community risk assessment. Once identified, the risks can be prioritized to assist in making informed decisions about risk treatment options and the provision of fire protection services.
Ontario Regulation 378/18: Community Risk Assessments (O. Reg. 378/18) requires the Town of South Bruce Peninsula to complete a community risk assessment to use to make informed decisions on the provision of fire protection services. The Community Risk Assessment is an in-depth and comprehensive assessment to inform fire protection service levels and requires the identification, analysis, evaluation and prioritizing of risk, based on nine mandatory profiles.
The Town of South Bruce Peninsula is working on the Community Risk Assessment which we expect will be completed by the end of 2022. The implementation of this will take up to five years. A revision will be done in 2027.