The Town of South Bruce Peninsula's Traffic By-Law outlines parking regulations. The by-law is subject to amendment and any amendment would be considered to be in full force and effect.
The Town also has a by-law to regulate Paid Parking.
Buy a parking pass.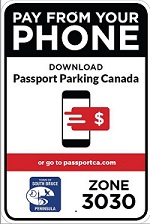 For more information on paid parking view our Sauble Beach page.
Please note that by-law set fines are subject to change and may not be as listed with the by-law.