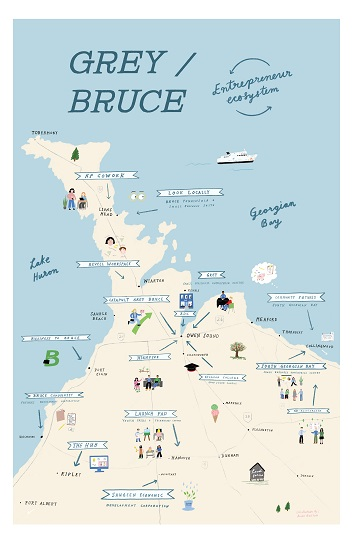 There is a strong entrepreneur ecosystem in Grey/Bruce. If you are an employer there are resources to assist you.
View the Grey Bruce Entrepreneur Ecosystem poster.
Bruce/Grey/Simcoe Free Training
Business to Bruce
Business to Bruce - Connects prospective entrepreneurs with a community that fits their business needs and their lifestyle and with a peer and local entrepreneur to guide them through the process.
Bruce County Jobs
T3 Accelerator Program
T3 Accelerator Program - Owners of independently owned and operated tourism businesses in BruceGreySimcoe can now access support through the T3 Accelerator program.
Catapult Grey Bruce
Chamber's of Commerce
Sauble Beach Chamber of Commerce
Tourism Innovation Lab
HR Canada
HR Canada - Canada's National HR organization working for the tourism sector
Now Hiring - a Post-pandemic HR Guide for Employers
Launch Pad
Launch Pad - Through various afterschool programs such as welding, woodworking, culinary, technology, art, and more, we continuously strive to build a strong sense of self and community engagement in all our youth.
Tourism Industry Association of Ontario
TIAO - Tourism Association for Policy and Advocacy
Tourism and Hospitality Emergency Recovery - is a national workforce recovery initiative to connect
workers to exciting career opportunities in the tourism and hospitality sector and to support
businesses across Canada.
Three Fires Collaborative Quest - a program designed to fill critical gaps within the industry and encourage recovery and growth of the province's tourism workforce by bringing awareness of opportunities to potential Indigenous employees.
Georgian College Hospitality, Tourism and Recreation
Revell Coworking Space
Revell Coworking Space - From small businesses who require affordable space, remote workers, students who need a quiet place to work, seasonal residents requiring a high speed connection and local groups who want room to meet and work, co-working is a solution.
Ryerson Hospitality and Tourism Management