Wiarton Willie 2023 Festival and Prediction Morning
Willie predicts an early spring!
South Bruce Peninsula is home to Canada's most famous weather prognosticating groundhog Wiarton Willie!
Each year on February 2nd, people from around the world eagerly wait to see if Wiarton Willie will see a shadow indicating 6 more weeks of winter, or not see a shadow, predicting an early spring.
Bruce Power, Photo Contest!
Take a photo of the Bruce Power Ice Scupture and post it to instagram using the hastags #wiartonwillie and #groundhogday and tag @brucepowerngs on Instagram for a chance to win a GoPro 8.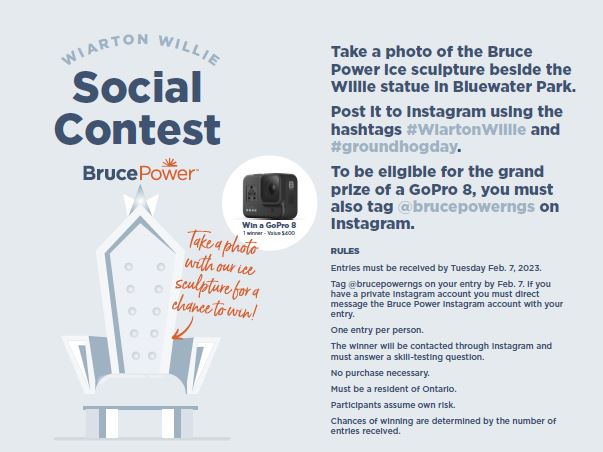 Our 2023 Platinum sponsor
We are pleased to welcome Bruce Power as our Platinum sponsor.
As a leader in Canada's nuclear industry, Bruce Power provides Ontario families and businesses with reliable, carbon-free electricity and life-saving medical isotopes. Our electricity production is crucial in the fight against climate change and the transition to a robust, Net Zero economy. Bruce Power's Life-Extension Program will extend the life of its nuclear fleet, creating and sustaining over 20,000 highly-skilled jobs annually, driving the province's economy, especially in the Clean Energy Frontier region of Grey, Bruce and Huron counties.

Our 2023 Friends sponsors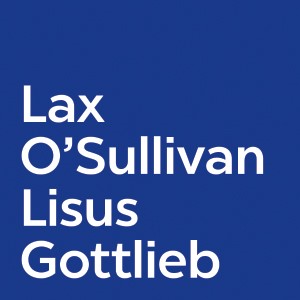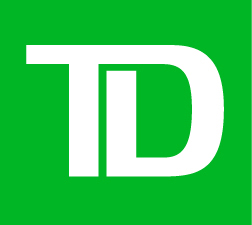 Festival events
Prediction Morning Thursday February 2, 2023Fireworks at 7am in Bluewater ParkWillie's Prediction at 8:07am at the Wiarton Arena Parking Lot. There will not be a pancake breakfast, free breakfast sandwiches will be available. The Town of South Bruce Peninsula will be hosting a free community festival on Sat Feb 4, 2023 from 9/10am to 4pm in Bluewater Park Festival Events include and are not limited to:
Trackless train
Axe throwing trailer
Game Asylum video gaming trailer
Human foosball arena
Full court press basketball
Boom blasters
Skating rink (tennis courts)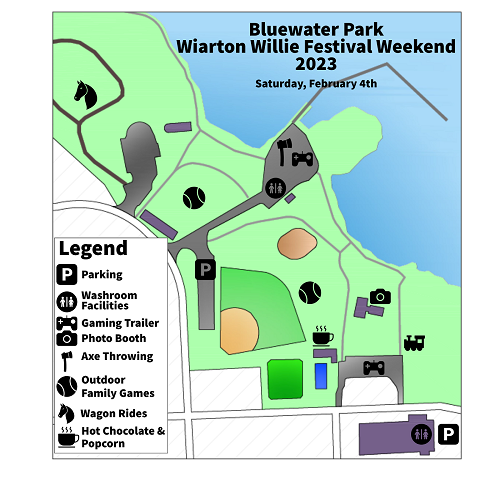 South Bruce Peninsula has many community organizations that also run festival events. If you are a community organization running an event festival weekend, and would like to be included on our website and community calendar, then please fill out the event listing form and return it to Town Hall.
Bid Euchre Tournament
Bid Euchre Tournament at the Wiarton Propeller Club
January 31, 2023 doors open at 12:30pm and games begin at 1pm
Pre-registration is required, please contact the Wiarton Propeller Club to register.
Children's Matinee
Feb 4, 2023 at 2pm at Frank St., Baptist Church.
Come to the Frank St. Baptist church and enjoy family friendly showing of Disney's Pixar movie "Up". Popcorn and drinks will be provided along with the opportunity to make craft after the movie.
Casino Night
Join the Lions Club on Feb 3, 2023 from 8pm to 1am at the Wiarton Auditorium
Blackjack Tables and Wheel of Fortune with proceeds going to the Wiarton Salvation Army
Groundhog Mixed Curling Bonspiel
Contact the Wiarton Curling Club for information and registration

Cost $160 per team
Fun curling tournement where no experience is necessary. Two (8-end) games
Continental brakfast and lunch provided and there will be prizes for all curlers.
Masonic Cheap Chili Chowdown
Feb 4, 2023 from 11am to 2pm at the Masonic Lodge at 560 Claude St.
A Groundhogger favorite for 20 years! Come have a nice hot lunch in a warm room.
$5.00 gets you a bowl of chili (3 kinds: meat lovers, mild and veggie), a bun and a cup of tea, coffee or hot chocolate.
Lion's Club Groundhog Pool Tournament
Sat Feb 4, 2023 at 9am at Lloyd's Smoke Shop $15 registration fee
Cash prizes for 1st, 2nd and 3rd place
Student Art Exhibition
Fri Feb 3rd from 5pm to 9pm and Feb 4th from 10am to 4pm
572 Berford St. (between the bookstore and Lloyd's)
View the work of the talented students of Peninsula Shores District School.
Skating Rink
Bring your skates on Sat Feb 4th as the tennis courts in Bluewater Park are being converted into an ice skating surface!
Vendor's/Craftors Market
Feb 4, 2023 from 9am to 3pm at the Wiarton Propeller Club
Admission is $1.00 contact the Wiarton Propellor Club for more information.
Annual Wiarton & District Lion's Club Willie Dance (featuring The Midnight Blue Band)
Feb 4, 2023 from 9pm to 1am at the Wiarton Arena
Tickets are $20.00 and are available at Josie's Fashions (615 Berford St.)
Wiarton Willie Dance (featuring Pick Up Band)
Feb 4, 2023 from 9pm to 1am at the Wiarton Propeller Club
Tickets are $20.00 with $5.00 going to help fund the PSDS playground committee fund. Contact Trina for tickets
Willie Weekend Ice Hockey Tournament (Men's and Woman's)
Ice hockey tournament at the Wiarton Arena. View the full game schedule Contact Hayden Hellyer at 519-270-8699 for more information. This event was proudly sponsored by:
Alexa Miller Real estate
Smith & Older Realty
8x8 Volleyball Apparel
Laura Lisk Realty with Century 21
Your Local Meat Shoppe & More
Rock Hard Stone Landscaping
Wiarton Legion Festival Weekend Events (Fri Feb 3rd and Sat Feb 4th)
Wiarton Legion 330 Boyd St.
Feb 3, 2023
Chilidog/bowl of Chili at 4:30pm
Karakoe with Lenny 8pm to midnight
Feb 4, 2023
Willie dart tournament registration at 10am
Chili available at 11:30am
Matinee with the MacGregor Two 2pm to 5pm $5 cover
Evening with the MacGregor two and guests $10 cover
History and past predictions
How it all began
Wiarton has been celebrating the Wiarton Willie Festival for over 65 years. The event began with Mac McKenzie who wanted to have a party for a hundred of his closest friends. He sent out a press release inviting them to Wiarton for Groundhog Day to break the winter doldrums and have a little fun. The media got a hold of the story and a lone reporter came out to see what was going on. After making inquiries all over town, he was directed to the local 'establishment', where sure enough, Mac and his buds were raising an elbow or two. When Mac was asked "where is the groundhog?" he threw a fur hat into the snow. The reporter took advantage of the photo op and the rest they say is history.
The legend
Legend has it that three wise groundhogs, Grundoon, Muldoon and Sand Dune broke hibernation to tell Mac of the birth of a white groundhog who would forever alter the world of weather prognostication. The white groundhog would be known for his uncanny ability to correctly predict the timing of spring and he would emerge each February 2nd to announce his prediction to those who spoke Groundhogese.

These prognostications brought locals and visitors from near and far, soon turning into an annual festival. As Willie's fame has grown, so has the Festival which has matured to become the largest winter festival in Bruce County.
The Shadow Cabinet
Willie's position as the premier prognosticator brought more fame to the Town and soon the Town realized their icon needed a proper entourage and the "Shadow Cabinet" was created. The Shadow Cabinet is led by The Mayor of the Land and of the Marmot, the only person who can speak Groundhogese. Shadow Cabinet Members over the years have included: The Minister of Inter-Burrow Affairs, The Minister of Hot Air and Hogwash, The Minister of Marmot Management, The Director of Business, Buttons and Bows, The Director of Surf, Sand and Fun, Mother Nature, The Minister of Sea, Sand and Sun, The Minister of Youthful Affairs, The Minister of Ancient Affairs, the Festival Founder and local MP's and MPP's.

Dignitaries who have accompanied the Shadow Cabinet have included the Chiefs of our First Nations neighbours, the Town Criers, the Premier of Ontario and Festival sponsors.
Past predictions
Each year, Willie makes a prediction at 8:07 am.
Sponsorship Package 2023
Sponsors are critical to the success of any community event. Please consider sponsoring the 2023 Wiarton Willie Festival. You can view the sponsorhip package and/or contact Danielle Edwards, Manager of Economic Development and Communications for more information.
Where does Willie live?
You can visit Wiarton Willie from May until September in his home in Bluewater Park.
The Mac McKenzie award
2023 Mac McKenzie award
To be announced
Past Recipients
2010 John Aiken
2011 Alan Given
2012 Joe Bell
2013 Jim Mitchell
2014 Keith Gilbert
2015 Joanne Lancaster
2016 Paul Sutter
2017 Bruce Peninsula Association for Community Living
2018 David Nixon
2019 Mary Lynn Standen
2020 Angie McDougall
2022 Jeff Brown
2023 MacGregor Tannahill and Bruce Kruger
The Mac McKenzie Award is given to an individual or organization who works tirelessly for our community and demonstrates a selfless volunteer commitment.
Willie's Kid Zone
Downloadable Colouring Pages
Willie's Statue
Willie became so famous that in 1995 a statue made from stone donated by Adair Quarry and sculpting donated by Dave Robinson. A beautiful white limestone statue called "Willie Emerging" was unveiled in Bluewater Park on February 3, 1996 to celebrate the 40th anniversary of Wiarton Willie prognostications.. The statue located in Bluewater Park in Wiarton is a perfect opportunity for a photo op. The statue is a 'must see' for most tourists visiting the Town of South Bruce Peninsula.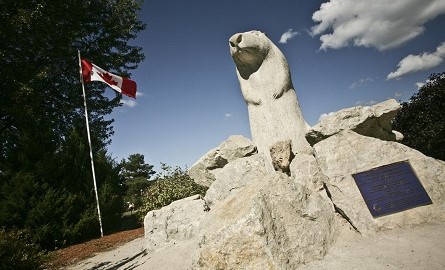 The Wiarton Willie statue started out as a single piece of dolomite limestone weighing approximately 7 tonnes. The stone donated Arriscraft Corporation/Adair Quarry in Hope Bay, 20 kms north of Wiarton. Arriscraft Corporation has provided stone for buildings such as Canada's Embassy in Washington, the locks of the Rideau Canal and the Peacekeeper Monument in Ottawa.
Dave Robinson, an artist from the area, apprenticed in marble carving in Carrera Italy and has several works on display in Toronto and Ottawa. Robinson donated his time and talent to sculpt the image of the weather-forecasting groundhog. Robinson began the work in the summer of 1995. The statue is statue life-like and natural looking with some minimal stylization. Robinson left the statue roughly carved so the crystals in the stone help to keep the look close to that of the albino groundhog. The completed statue weighs approximately 4.5 tonnes.