Wiarton Willie 2021 Prediction
South Bruce Peninsula is home to Canada's most famous weather prognosticating groundhog Wiarton Willie!
Each year on Feb 2nd people from around the world eagerly await to see if Wiarton Willie will see his shadow indicating 6 more weeks of winter, or not see his shadow, predicting an early spring.
2021 Wiarton Willie Platinum Sponsor
Greetings from Mike Rencheck, CEO for Bruce Power
Greetings from Bill Walker, MPP Bruce-Grey-Owen Sound
Greetings from Alex Ruff, MP Bruce-Grey-Owen Sound
Prediction morning February 2nd
Wiarton Willie Festival Events - 2021
The Wiarton Willie Festival will celebrate its 65th anniversary on February 2nd, 2021.
Organizing a Festival of this caliber takes many months, substantial manpower and an abundance of sponsorships. The Town recognizes that with COVID19 restrictions, hosting the Wiarton Willie Festival is simply not possible. It is for this reason that the difficult decision has been made to cancel the 2021 Town hosted Festival events and prediction morning celebrations.
"Announcing the cancellation of the festival events gives us great sadness. The decision to cancel the events was especially difficult as it is a banner year", says Danielle Edwards, Economic Development Officer.
"As with many organized special events, we have had to "pivot" and think of ways to keep the celebration alive. We have been planning something special to commemorate the 65th anniversary of the Festival. We hope you tune into your social media platforms and tune in to your favorite morning TV show on Groundhog Dayto see this special prediction" says Mayor Jackson.
- 30 -
Janice Jackson Mayor, Town of South Bruce Peninsula Janice.Jackson@southbrucepeninsula.com 519-534-1400 ext 200 Issued January 13, 2021
Festival events
If you are hosting an event during the Wiarton Willie Festival Weekend and you would like to be included on our website or in the program please fill out the application and return it to Town Hall.
Festival sponsors
History and past predictions
How it all began
Wiarton has been celebrating the Wiarton Willie Festival for over 64 years. The event began with Mac McKenzie who wanted to have a party for a hundred of his closest friends. He sent out a press release inviting them to Wiarton for Groundhog Day to break the winter doldrums and have a little fun. The media got a hold of the story and a lone reporter came out to see what was going on. After making inquiries all over town, he was directed to the local 'establishment', where sure enough, Mac and his buds were raising an elbow or two. When Mac was asked "where is the groundhog?" he threw a fur hat into the snow. The reporter took advantage of the photo op and the rest they say is history.
The legend
Legend has it that three wise groundhogs, Grundoon, Muldoon and Sand Dune broke hibernation to tell Mac of the birth of a white groundhog who would forever alter the world of weather prognostication. The white groundhog would be known for his uncanny ability to correctly predict the timing of spring and he would emerge each February 2nd to announce his prediction to those who spoke Groundhogese.

These prognostications brought locals and visitors from near and far, soon turning into an annual festival. As Willie's fame has grown, so has the Festival which has matured to become the largest winter festival in Bruce County.
The Shadow Cabinet
Willie's position as the premier prognosticator brought more fame to the Town and soon Town Fathers realized their icon needed a proper entourage and the "Shadow Cabinet" was created. The Mayor of the Land and of the Marmot, (the only person who can speak Groundhogese); Minister of Inter-Burrow Affairs, (to manage the political affairs); Minister of Hogwash and Hot Air, (to handle the media); Minister of Marmot Management, (to ensure the 'home front' is in good order); Director of Business, Buttons and Bows, (to ensure we are well decorated); Director of Surf, Sand and Fun, (to make sure there are lots of great activities to enjoy) and of course Mother Nature to make it all go well.
Where does Willie live?
You can visit Wiarton Willie from May until September in his home in Bluewater Park.
Willie's Kid Zone
Downloadable Colouring Pages
Puzzles
Willie's Statue
Willie became so famous that in 1995 a statue made from stone donated by Adair Quarry and sculpting donated by Dave Robinson. A beautiful white limestone statue called "Willie Emerging" was unveiled in Bluewater Park on February 3, 1996 to celebrate the 40th anniversary of Wiarton Willie prognostications.. The statue located in Bluewater Park in Wiarton is a perfect opportunity for a photo op. The statue is a 'must see' for most tourists visiting the Town of South Bruce Peninsula.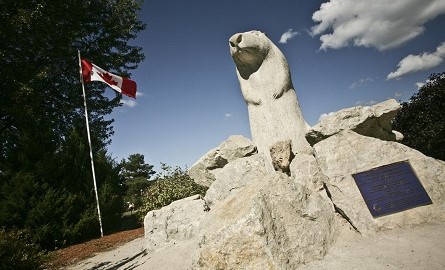 The Wiarton Willie statue started out as a single piece of dolomite limestone weighing approximately 7 tonnes. The stone donated Arriscraft Corporation/Adair Quarry in Hope Bay, 20 kms north of Wiarton. Arriscraft Corporation has provided stone for buildings such as Canada's Embassy in Washington, the locks of the Rideau Canal and the Peacekeeper Monument in Ottawa.
Dave Robinson, an artist from the area, apprenticed in marble carving in Carrera Italy and has several works on display in Toronto and Ottawa. Robinson donated his time and talent to sculpt the image of the weather-forecasting groundhog. Robinson began the work in the summer of 1995. The statue is statue life-like and natural looking with some minimal stylization. Robinson left the statue roughly carved so the crystals in the stone help to keep the look close to that of the albino groundhog. The completed statue weighs approximately 4.5 tonnes.